Plant Production Contacts
Post
PO Box 5156, Greenmeadows, New Zealand
Physical
47 Oak Road, RD2, Napier
Phone
+64 6 844 9679
Fax
+64 6 844 7009
Web
www.plantproduction.co.nz
Personnel
Sales
Paul Chadderton - email Paul
Admin
Gavin Ramsay - email Gavin
General
Richard Ware - email Richard
Phone Policy - In an effort to improve the efficiency of our service to all our customers, we are now utilizing the voice directory service of our telephone system. While we appreciate that some people find such systems less personal than manually operated systems, we believe that most, if not all, of our customers will appreciate the efficiencies this system will enable us to pass on to them.
Please note that our call-minder service may still be operated outside our normal business hours.
Visitor Policy - We welcome visitors to our nursery. However, in order that we may serve our visitors needs fully and effectively, we request that you contact us to make an appointment before you visit. We work to very tight schedules in order to ensure our customers receive their stock on time; consequently, we regret that unscheduled visitors may not be able to receive the attention we would like to give them.
Your help in implementing these policies will enable us to work more efficiently towards meeting all our customer's requirements.
How to find us - We are situated near the northern end of the foothills to the west of Napier City. It is now even quicker to get to us with the new expressway.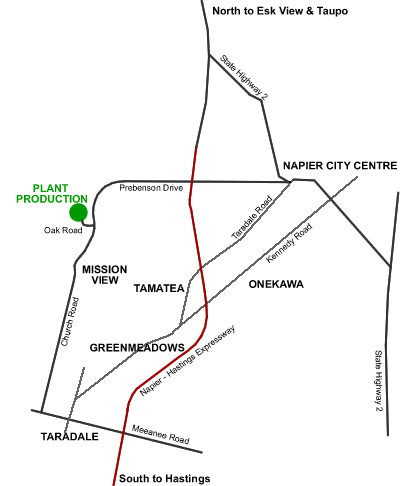 A spectacular early morning view
from our Poraiti Nursery